Project Quick Add

Sometimes you may be adding a current activity and the project you are working on does not already exist within MicroManager. Yet, you are in hurry and really do not feel like going through the "Manage Projects" window. For cases like this you can use the "Project Quick Add" button to the left of the "Projects" drop-down menu.
Step 1: Type in your activity as you normally would.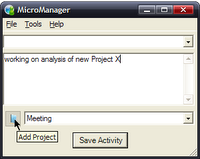 Step 2: Click on the "Add Project" button to the left of the "Project" drop-down menu.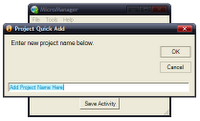 Step 3: The "Project Quick Add" screen shows with a prompt to add your project name.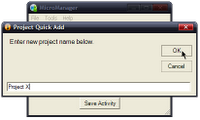 Step 4: Enter in your project name and click "OK".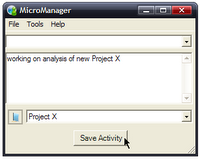 Step 5: Your newly added project is automatically selected for the activity you previously entered. Now just press the "Save Activity" button to enter the first activity for this newly created project.
Creating projects this way is very fast and easy. You can then go into the "Manage Projects" screen at another time to enter a description and business code when time permits.
MicroManager is all about not getting in the way of your current work so it doesn't force you to enter too much information if you do not need to. Thank you for your time and continue to use and enjoy MicroManager in your daily work.
Labels: use